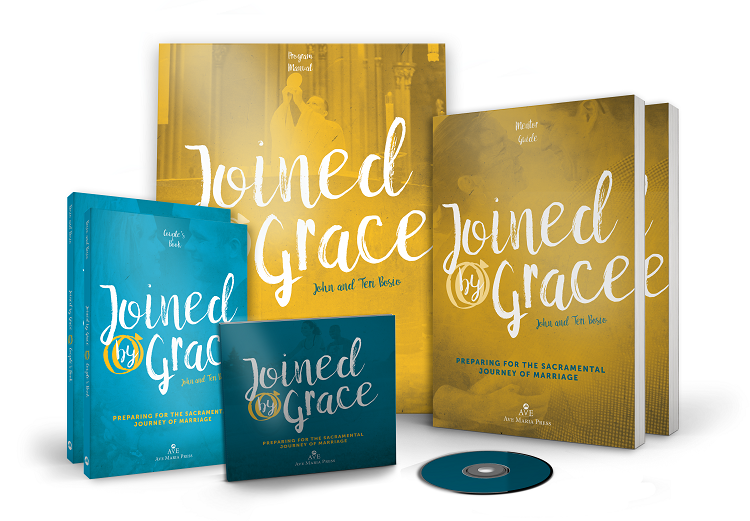 Joined by Grace
Preparing for the Sacramental Journey of Marriage
Joined by Grace was developed with one goal in mind: to help engaged couples build strong, life-giving, and lasting unions by inspiring them to welcome God into their marriages more completely.
Offering couples the tools they need for life after their wedding day, Joined by Grace shows how the seven sacraments can help build marriages that are rooted in Christ by teaching couples to accept and be fully present to one another, give themselves completely, and serve and forgive each other.
Published by Ave Maria Press—the publisher of Together for Life and a leader in marriage ministry for almost 50 years—written by marriage experts John and Teri Bosio, and produced by the Emmy-winning Spirit Juice Studios, Joined by Grace provides parish leaders, mentor couples, and engaged couples the most comprehensive, innovative, and up-to-date marriage preparation program for Catholic parishes today and the first to emphasize the connection between marriage and the other six sacraments.
To begin using Joined by Grace in your parish, order the Joined by Grace Started Pack today.
Researched and Tested
For more than six years, we listened to the needs, concerns, and desires of parish leaders for engaging, realistic marriage preparation materials based on Church teaching. And we listened to Pope Francis, bishops, theologians, marriage and family coaches and counselors, and leading researchers on the needs of married couples today. Joined by Grace was created from what we heard. The program was piloted by dozens of couples in parishes around the country.
Sacrament-Based
Marriage prep doesn't have to feel like an obligation. Joined by Grace is an engaging guided journey toward a lifelong Christian marriage. Incorporating the wisdom of Pope Francis's apostolic exhortation on marriage and family, Amoris Laetitia (The Joy of Love), the program allows pastoral leaders and mentors to help couples build strong, life-giving, and lasting marriages by demonstrating how the grace of each sacrament can help couples learn to love each other as Christ loves the Church.
Couples will learn that in the Eucharist, Christ gives himself fully to us; in marriage, spouses give themselves fully to each other. They'll see that in marriage, Christ invites us to forgive our spouses as he forgives us in the sacrament of Reconciliation.
Infused with the Witness of Couples
Joined by Grace was developed in partnership with John and Teri Bosio, who have been married for more than forty years and have helped hundreds of engaged and married couples through their ministry.
We also partnered with Emmy-winning production company Spirit Juice Studios to produce the Joined by Grace DVD, which features real married couples filmed unscripted in their homes, sharing stories and insights from their own lives about living the sacraments through good times and bad.
Guided by Church Teaching
The Joined by Grace DVD also includes brief videos by pastoral leaders Tim and Sue Muldoon, Keara Ette, and Rev. Neil Wack, C.S.C., that offer brief recaps of key themes for each of the six program segments. These experts present Church teaching in common language that both engaged and mentor couples will welcome and understand.
In the 2014 Synod on the Family, bishops agreed to "grounding marriage preparation in the process of Christian initiation by bringing out the connection between marriage, baptism, and the other sacraments," Pope Francis saaid in Amoris Laetita.
Joined by Grace offers good science alongside Church tradition and its beautiful teachings to help couples build a lasting and holy relationship, rooted in Christ and the grace of the sacraments.
Joined by Grace
Preparing for the Sacramental Journey of Marriage
Download Sample Chapters
To sign up for more information and to receive a sample chapter from the books and DVD, enter your email address: